Residential Geothermal Heating
and Cooling Systems Installation
WPGHCI has been installing residential geothermal units for over 15 years now. Originally as a combination of Burtner Geothermal and Callen heating, then merged as Western Pennsylvania Geothermal. WPGHCI has installed residential systems in everything from 1000 sq ft homes to 18,000 sq ft mansions that require multiple systems.
WPGHCI prides itself in taking into account every possible piece of information that is available before sizing a geothermal system. A load study calculation is done prior to any estimate WPGHCI produces, and in retro-fit applications WPGHCI usually runs a blower door test and if necessary a thermal image scan of the home. (See our FAQ page for an explanation of a Blower Door Test).
When performing a load study calculation many factors are taken into consideration – the insulation properties of the home, the window sizes their U-factors, how much of the basement is below grade, the direction the house is going to face, how much property is around the home and the terrain. (See our FAQ page for a more complete list of what WPGHCI would like to know in order to size a geothermal system for your particular application).
Don't let any company install ANY type of heating and cooling in your home unless they have completed a load study and taken into account all of the necessary parameters.
Once WPGHCI has gathered and processed all of this information, we are able to give you a highly accurate estimate of your options for installing geothermal as well as a cost analysis to show what it is going to cost you to operate the system in the coming years.
While residential geothermal applications are predominately forced air, geothermal does have the ability to produce hot water for use in radiant floor applications.
For most residential applications WPGHCI has chosen to use Water Furnace Geothermal units. ( See our products page for a link to the Water Furnace Website)
WPGHCI has employees with IGSHPA certification and Water Furnace Geo Pro Master Dealer Certification. We are member of the Geoexchange. Since installing our first system, WPGHCI now has well over 500 installations, throughout Western Pennsylvania and into Ohio, West Virginia, and Maryland. (See the map below for area with WPGHCI geothermal installations)
Highlighted Counties Have A WPGHCI Geothermal Installation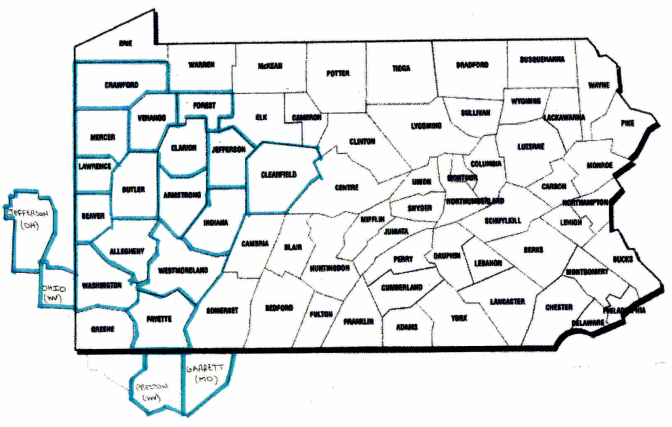 WPGHCI designs and lays out our own loop fields, but we do use specific subcontractors for drilling and excavation. In horizontal loop applications, WPGHCI has it's own trained crews at installing the piping in the ground. In vertical applications, WPGHCI performs the horizontal tie-ins from the bore holes installed by the driller to the penetrations into the home.
WPGHCI does not however perform nor include in our pricing and landscaping, whether for new construction or to restore yards to their original condition. Whenever, we perform as much excavation as we do, it takes a significant amount of time for a yard to finish settling and WPGHCI doesn't want to leave you with a yard the in re-landscaped and then settles with ruts and valleys in the next 6-9 months. Thus WPGHCI performs only rough grading upon completion of an installation.
Once the piping is inside of the home, WPGHCI installs of the interior piping and insulates it to prevent condensation. WPGHCI prefers manifolding the loop field piping inside the home as its makes the systems easier to purge and also allows individual loops to be shut down should anything happen to one of them. Typical pipe manufacturer's (like Charter Plastics) warranty their products for 50+ years against defects, and claim a life expectancy of 200+ years. However, in the past, WPGHCI has had owner's who have inadvertently dug through their loop fields while installing french drains, cisterns, and even a light pole. Being able to shut-off individual loops in these cases was priceless.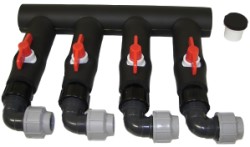 Although many companies and manufacturer's use 'pressurized' loop fields, WPGHCI is a proponent of 'Non-pressurzied' systems. Non-pressurized systems use a device called a flow center (as manufactured by B&D) in order to circulate the fluid (typically a water and methanol mix) from the geothermal unit to loops in the ground and back). The use of 'non-presurized' flow centers helps to greatly reduce 'nuissance' calls due to loss of pressure in pressurized systems.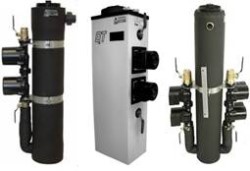 In the years that WPGHCI has been installing geothermal systems, we have installed systems for almost every manufacturer under the sun. It is WPGHCI's opinion that the equipment we purchase and install from Water Furnace International is far superior to equipment from other manufacturer's. WPGHCI feels that WFI leads the industry in both reliability and technical support.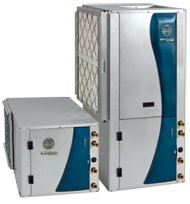 Depending on unit locations and whether a system is being installed in new construction or in a retrofit application, WPGHCI may request that electrical service be run to a location near the unit by a qualified electrician. WPGHCI does not want to cost you more to install a system than is fair, and rather than WPGHCI hiring and marking up an electrician, many times it makes more sense for homeowner's to hire electricians independently.
Whether installing a system in an existing structure or in new construction, WPGHCI maintains it's own fully functional ductwork fabrication shop. WPGHCI designs, fabricates and installs ductwork system per ACCA's Manual D. All of WPGHCI's systems are custom fabricated, including transitions from new equipment to existing ductwork systems. WPGHCI insulates and seals all of our ductwork systems per the IRC building codes.
In many cases WPGHCI recommends and installs zoned ductwork systems. This is a system which allows for multiple areas of a home to be maintained at different heating and cooling temperatures. In some cases, WPGHCI zones with main trunk lines and in some cases with dampers in individual runs. WPGHCI typically uses zoning systems by manufacturer's such as ARZEL.
ARZEL Zoning Components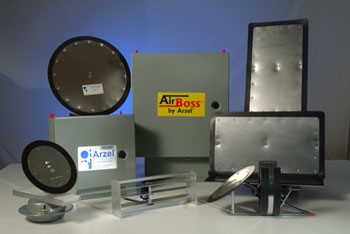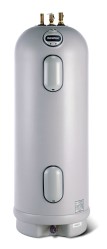 Marathon
Hot Water Tank
Almost all geothermal units come with an option called a "Hot Water Assist Generator" or a "Desuperheater." This option basically produces 'free hot water.' Whenever the compressor in the geothermal system is running, a little bit of heat is taken off of the system and used to supplement the 'domestic hot water tank.' It can produce anywhere from 10 -40% of your domestic hot water over the course of a year depending on consumption and how you run the geothermal unit for space heating and cooling.
Hot Water Assist Generators can be connected directly to electric hot water tanks, but require a pre-heat tank when connected to gas fired hot water tanks. When a hot water tank needs replaced or installed in new construction, WPGHCI recommends a MARATHON hot water tank. Marathon Hot Water Tanks come with a lifetime warranty on the tank and a 6 year warranty on the elements and parts.
In many instances home owner's like the idea of having radiant floor systems. While radiant floor systems are an extremely comfortable and even heat, they are a luxury. Don't confuse the expense of a radiant floor system with the expense of a geothermal system. Keep in mind that while radiant floor systems are excellent sources of heat, you can not cool with them in our area of the country. Geothermal units can produce hot water for radiant floors up into the 130 degree range but no where near the 180 degree range of standard boilers.
Some Typical WPGHCI Geothermal Installations